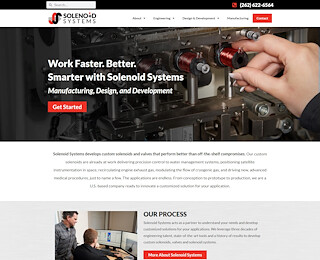 Navigating Medical Solenoid Valves with Solenoid Systems
Solenoid Systems stands as a pioneering name in the field of electromagnetic actuation systems, and we are especially adept in the specialized realm of Medical Solenoid Valves. These valves form the backbone of various life-saving medical devices, aiding in precise fluid and gas control. We invite you to learn more about this specialized area of our business, which has been designed to meet the stringent quality and safety measures expected in medical applications.
Understanding Medical Solenoid Valves
Medical Solenoid Valves have a critical role in a wide array of medical devices, from ventilators to dialysis machines. These valves control the flow of liquids or gases by using electromagnetic force. What sets the valves from Solenoid Systems apart is our dedication to precision and reliability. We ensure that every valve undergoes rigorous testing for accuracy, making them ideal for medical applications where there is no room for error.
Key Attributes of Medical Solenoid Valves
When it comes to Medical Solenoid Valves, certain features are non-negotiable. These include biocompatibility, resistance to corrosion, and low power consumption. At Solenoid Systems, we offer valves that excel in these areas, providing a safe, efficient, and long-lasting solution. The materials we use are specially chosen to meet medical standards, ensuring optimum performance and patient safety.
Customization Capabilities
Solenoid Systems recognizes that one size does not fit all when it comes to medical applications. That's why we offer a range of customization options. Whether you require valves with specific flow rates, pressures, or sizes, our team of engineers and designers can provide bespoke solutions. Our unique customization capabilities enable us to tailor each Medical Solenoid Valve to your particular device or system.
Integration into Medical Devices
The integration of Medical Solenoid Valves into complex medical devices requires a comprehensive understanding of both mechanical and electrical components. Our engineers work hand in hand with your teams to ensure seamless integration. By understanding your specific needs and constraints, we deliver valves that are not only functional but also highly efficient.
Adherence to Regulatory Standards
Medical devices are subject to rigorous regulatory standards, and Solenoid Systems takes this very seriously. All our Medical Solenoid Valves comply with relevant standards such as ISO 13485 and FDA regulations. We undertake regular audits and quality checks to ensure our products continue to meet or exceed these requirements.
Advanced Manufacturing Techniques
At Solenoid Systems, we employ state-of-the-art manufacturing techniques to produce our Medical Solenoid Valves. From 3D modeling to laser-based calibration, we leverage the latest technology to ensure that every valve is of the highest quality. This focus on advanced manufacturing enhances not only the product but also the overall customer experience.
Streamlined Supply Chain Management
Time is often a critical factor in medical applications. Solenoid Systems has developed a streamlined supply chain to ensure that our Medical Solenoid Valves reach you as swiftly as possible. Our robust supply chain management includes strategies for raw material sourcing, production, and logistics, thus ensuring timely delivery without compromising on quality.
Global Reach and Local Support
Solenoid Systems is not just a domestic provider but a global partner. Our Medical Solenoid Valves are used worldwide in diverse healthcare settings. However, what really sets us apart is our local support. We provide comprehensive after-sales service, including training, maintenance, and troubleshooting, making us a reliable partner in your healthcare journey.
Continued Research and Development
Innovation is at the core of what we do. Solenoid Systems invests heavily in research and development to bring new and improved Medical Solenoid Valves to market. By staying ahead of industry trends and technological advances, we ensure that our customers always have access to the most cutting-edge solutions.
Solenoid Systems: A Trusted Partner
We understand that when it comes to medical applications, there's no room for compromise. With lives at stake, every component must function flawlessly, and that's a responsibility we take to heart. At Solenoid Systems, we don't just sell Medical Solenoid Valves; we provide peace of mind. Our products are the culmination of years of engineering expertise, rigorous testing, and a steadfast commitment to quality and reliability.
In a rapidly advancing healthcare environment, the quest for reliable, efficient, and safe medical devices is an ongoing challenge. Solenoid Systems stands ready to meet that challenge head-on. Our Medical Solenoid Valves are more than just components; they are the result of our dedication to excellence, innovation, and above all, patient well-being. We encourage you to reach out to us to learn more about how we can tailor our products to your specific needs. With our impeccable quality standards and unparalleled customer service, we are confident that once you experience the Solenoid Systems difference, you'll never settle for anything less.
Solenoid Systems
+1 262-622-6564
252 Enterprise Road
Delafield WI 53018 US