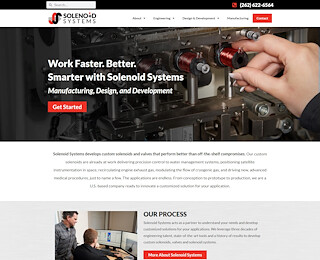 Choosing a Coil Winding Specialist: Why Solenoid Systems is the Leader in Custom Solutions
At Solenoid Systems, our focus isn't just on creating quality solenoids and valves; it's about offering custom solutions that outperform generic, off-the-shelf products. Our services range from conceptualization to prototype development and full production, which means we can provide a complete, turnkey solution for your specific needs. Leveraging three decades of engineering talent, state-of-the-art tools, and an exhaustive history of success, Solenoid Systems is your go-to partner for reliable, efficient, and customized solenoid and valve solutions.
The Importance of Customization in Coil Winding
When it comes to hiring a coil winding specialist, one size certainly does not fit all. The customized coil winding solutions we provide are specifically tailored to meet the requirements of various applications, from water management systems to advanced medical procedures. This personalization is essential because it allows for improved performance, greater efficiency, and long-lasting durability, all of which are crucial elements for any industry.
Breaking Down Our Virtual Development Platform
Our Virtual Development Platform is an advanced simulation technology that forms the core of our design and development process. It enables our engineers to create highly specific and optimized coil winding configurations that are exactly suited to your project's needs. By simulating various scenarios and conditions, we can pre-empt potential challenges and offer solutions before they become problems.
Why Engineering Design Matters in Coil Winding
Engineering design isn't just about creating a functional product; it's about creating a product that excels in its specific application. Solenoid Systems is a fully integrated engineering design and development resource specializing in electromagnetic devices. Our custom coil winding solutions are born from rigorous engineering methodologies that aim to solve real-world problems and deliver tangible benefits.
Making Your Ideas a Reality
Your idea might be on the cutting edge of technology or a simple solution to a long-standing problem; regardless, bringing that idea to life is what Solenoid Systems specializes in. We work as an extension of your development team to create custom solenoids, solenoid valves, and systems with coil winding that meet the demands of even the most challenging applications. It's not just about manufacturing; it's about solving design and development challenges to ensure your solution not just works, but excels.
In-House Manufacturing Capabilities
While some companies outsource their manufacturing, Solenoid Systems keeps it in-house. We have over 30 years of manufacturing experience, specifically in coil winding, resistance welding, overmolding, and assembly processes. Our U.S.-based facility is equipped to handle both low- and high-volume production. The benefit to you is a more controlled, efficient, and streamlined manufacturing process that ensures quality every step of the way.
Custom Solutions Across Industries
Our customer portfolio is as diverse as the solutions we offer. Whether you are in the automotive, industrial, or medical markets, or any market in between, Solenoid Systems can develop a custom solution with coil winding tailored for your application. We not only offer products but also a partnership aimed at understanding your specific needs and developing solutions that meet those needs.
Analysis and Quality Control
Outcome analysis is a critical part of our process. Solenoid Systems ensures that solenoids and valves, including those with custom coil winding, function as expected under varying conditions. Rigorous quality control measures are in place to ensure every product that leaves our facility meets stringent performance and reliability standards.
Engineering Expertise as a Service
At Solenoid Systems, we also offer our engineering expertise as a specialized service. If you lack internal resources for electromagnetic analysis and design, our team can fill that gap. Our consultative approach is designed to augment your existing resources, providing you with specialized skills in coil winding and electromagnetic design whenever you need them.
Toward the Future: Innovative Coil Winding Solutions
Innovation is part of our DNA. As technology evolves, so do the needs for more advanced coil winding solutions. Solenoid Systems is committed to staying ahead of the curve, leveraging connective technologies and embedded electronics to produce smart solenoids, valves, and solenoid systems. Our forward-thinking approach ensures that we are not just meeting the demands of today but are also ready for the challenges of tomorrow.
As you contemplate your next project or ponder the challenges you face with current systems, consider the expertise that Solenoid Systems brings to the table. It's not just about providing a product; it's about providing a customized, efficient, and effective solution to meet your specific needs. We encourage you to delve deeper into the extensive range of services we offer. Pick up the phone and give our skilled team a call, or send us a message. We're more than ready to discuss your needs in detail, provide consultation, and start working on a custom solution that's just right for you. With Solenoid Systems as your coil winding specialist, you're not just getting a product; you're getting a partner committed to delivering excellence at every turn.
Solenoid Systems
+1 262-622-6564
252 Enterprise Road
Delafield WI 53018 US