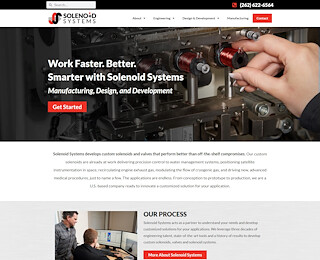 Unlocking the Potential of Coil Winding in Custom Solenoids: A Deep Dive with Solenoid Systems
When it comes to the design, development, and manufacturing of custom solenoids and valves, Solenoid Systems stands as an industry leader. Located in Delafield, Wisconsin, we serve a diverse range of markets, from automotive to medical, and offer ingenious solutions for an array of applications. Whether you are looking for precision control in water management systems or aiming to innovate in the medical sector, our three decades of engineering prowess have you covered. Our U.S.-based operations ensure that from concept to prototype and all the way to production, your project is in competent hands.
Coil Winding: The Heart of the Matter
One of the most critical components in solenoid design is coil winding. In our manufacturing facility, the coil winding process has been fine-tuned over 30 years to achieve optimal efficiency and reliability. Coil winding plays an essential role in electromagnetic design, affecting the performance, lifespan, and overall reliability of solenoids and valves. Our deep understanding of this process allows us to customize solenoids to meet the specific requirements of unique applications, ranging from automotive and industrial to specialized medical devices.
Why Custom Solutions Matter
Off-the-shelf products often fall short of meeting specialized needs. Custom solenoids, designed meticulously through Coil Winding, serve to fill that gap. Solenoid Systems' experience in creating tailored solutions translates into optimized performance and extended life cycles for your applications. Customization ensures that each solenoid is a precise fit for the job it is intended to perform, leaving no room for inefficiencies. The countless hours spent on research and development pay off when you get a product that does exactly what you need it to do, how you need it done.
Engineering Excellence: Above and Beyond
Engineering isn't just about creating a product; it's about ensuring that it works seamlessly in real-world applications. Our Virtual Development Platform, fortified by advanced simulation technologies, plays a critical role here. This platform enables us to tackle design and development challenges effectively, bringing your ideas to life. Coupled with Coil Winding expertise, our engineering services are designed to deliver solutions that not only meet but often exceed the most stringent industry standards.
The Relevance of Manufacturing Expertise
Having an engineering design is one thing; turning that into a tangible, high-performance product is another. Our in-house manufacturing capabilities, especially in Coil Winding, allow us to maintain unparalleled quality control. Whether it's low-volume or high-volume production, our state-of-the-art facility supports all your needs, ensuring that the finished products are nothing short of perfect.
Collaborative Innovation
Solenoid Systems isn't just a vendor; we're your development partner. Our experts work closely with your team to understand your specific requirements and challenges. This collaborative approach ensures that the custom solenoids and valves we develop are not only high-quality but also solve your unique problems effectively. The key to our success lies in this strong emphasis on partnership and collaboration.
Analysis for Precision
In any engineering project, the outcome analysis is vital. At Solenoid Systems, we employ advanced tools for outcome analysis to ensure that the custom solenoids and valves function as expected. This rigorous validation, particularly in the Coil Winding process, contributes significantly to the reliability and durability of the products we deliver.
Integration of Modern Technologies
Solenoid Systems is at the forefront of incorporating cutting-edge technologies into our products. We leverage connective technologies and embedded electronics to produce smart solenoids, valves, and systems. These advancements make our products adaptable, efficient, and future-ready, standing as testaments to our forward-thinking approach.
Our Engineering Consulting Services
In instances where you may lack the necessary internal resources and capabilities for electromagnetic analysis and design, Solenoid Systems steps in as a reliable consultant. Our engineering expertise is available as a service to guide you through the intricacies of custom solenoid and valve design, particularly in optimizing Coil Winding methodologies for specific applications.
Your Success is Our Mission
At Solenoid Systems, we are dedicated to your success. Our mission is to provide innovative, quality, and cost-effective solutions in a timely manner. We take pride in our ability to work closely with our clients, ensuring that every custom solenoid and valve meets the highest standards. With state-of-the-art analysis technologies and proven development processes, we strive to exceed your expectations at every turn.
As we come to the end of this in-depth exploration, we invite you to discover the Solenoid Systems difference for yourself. Take a closer look at our range of services and products, and let us know how we can be a part of your next big project. With our extensive experience and unparalleled expertise in Coil Winding and custom solenoids, we are well-equipped to meet your most demanding requirements. To find out more, don't hesitate to reach out. Your inquiries are not just welcomed; they are encouraged. Together, let's innovate for a better tomorrow.
Solenoid Systems
+1 262-622-6564
252 Enterprise Road
Delafield WI 53018 US